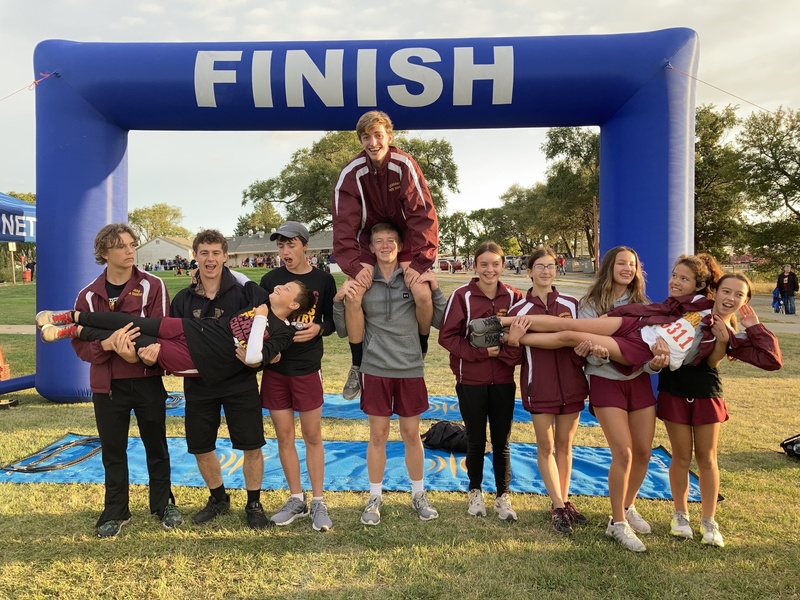 We couldn't have had a better day to run with perfect temps and very little wind at Beloit today. The kids have worked hard, and left it all out on the course either running a season best or a personal record. Typing the words doesn't do it justice. How the kids raced was almost poetic, and was something to behold. I was so happy for each and every one of them. We told them if they just believed in their training and pushed past their mental limit they would amaze themselves, and they bought in, gritted their teeth and raced with boldness and a touch of recklessness, which we encouraged. This meet is a tough one with schools from 1A to 4A present, so there is stout competition. The fields in all four races numbered in the 60s and 70s with the Middle School Boys' race having the smallest group of 53 athletes competing. Medaling here is a huge achievement! Congratulations, Bulldog harriers! Proud of all of you!
Varsity Boys 5K
Graham - 17:14, 4th, medalist, PR by 30 seconds
Aiden - 18:35, 19th, PR by 49 seconds
Payton - 19:50, 48th, PR by 1:56
Levi - 22:34, 75th, Season Best by 2:32, proud of him as he ran through a rolled ankle he sustained at the very beginning of the race
Darien - 24:13, 77th, PR by 36 seconds
Varsity Girls 5K
Kate - 21:28, 9th, medalist, PR by 2:03
Mya - 21:45, 11th, medalist, PR by 1:53
Helen - 23:58, 37th, Season Best by 4:27 and best time since Sophomore Year!!
Chloe - 24:24, 38th, Season Best by 1:23 and only 26 seconds off PR
Haden - 25:05, 44th, Season Best by 3:29 and only 19 seconds off PR
Girls - Placed 3rd as a team with 73 points
This is a big deal. 2A-6A schools score 5 runners, whereas 1A scores 4 runners to constitute a team score. With Beloit being a 3A school, 5 runners had to race to make a team. All five of our ladies pushed themselves, and WOW! Did their efforts pay off! We had some tough team competition, a 2A and 3A school taking the top places, but we defeated some large and formidable opponents, too. Congratulations, ladies!
Middle School Boys (ran and medaled all together) 2 Miles
Porter - 14:40, 37th, PR by 45 seconds
Zane - 15:59, 45th, PR by 4:47
Middle School Girls (ran and medaled all together) 2 miles
Ryah - 12:34, 1st, medalist, PR by 1:07
Georgia - 13:14, 9th medalist, PR by 50 seconds
Abby - 13:58, 18th, PR by 1:24
Mary - 14:12, 20th, PR by 3:18
Post Season is upon us! Next week is Junior High's last meet, and the last regular season meet of the High School Season. Dream big, ladies and gentlemen! It's not over yet.