It took some extra effort but OHS was able to host their annual Varsity Scholars Bowl Thursday, January 21. The Scholars Bowl was originally scheduled for Thursday, January 14, but due to covid it was postponed. Ten teams had planned to compete the14th. Surprisingly nine teams were able to make the trip to Osborne the 21st thus a ten team round robin ensued. Many of the volunteers who had planned to work the 14th were able to rearrange their schedules for the 21st. That was quite remarkable of our volunteers and very appreciated. A Scholars Bowl doesn't happen without volunteers. And some of the coaches commented that the Scholars Bowl went well which is because of our tremendous volunteers. A big Thank You to all who helped to make this Scholars Bowl a success.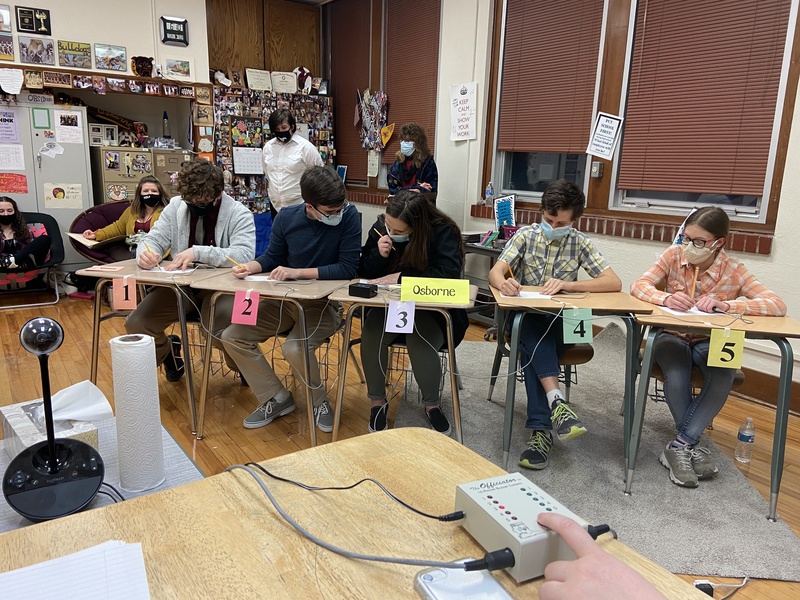 The OHS competitors were Janesa Ellis, Tyler Heise, Charlie Seifert, Thomas Spurgin, Levi Knoll, and Katzel Carlin. The team did well. Janesa Ellis scored 120 points which is one of her highest scores in her four years of Scholars Bowl in High School. Also, Tyler Heise earned 90 points for the team, one of his best scores. And Freshmen Katzel Carlin had her personal best this season with 80 points. Levi Knoll was the highest point getter for the team with 150 points.
The final outcome for this competition was Tipton went undefeated taking first place. Smith Center took second place, losing only to Tipton. Osborne earned third place and Phillipsburg took the fourth place medal home.
Again, thank you volunteers who made this event possible.